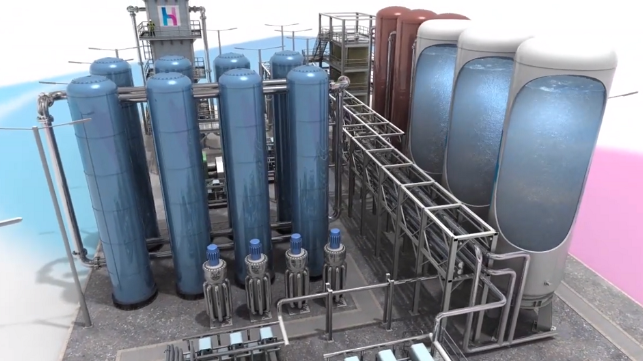 In the area of renewable energy vessel propulsion, the scale of maritime vessel technology allows for application of grid-scale energy storage technologies that would otherwise be impractical for road or rail vehicle propulsion. Initiatives are underway in the UK to develop grid-scale liquid air energy storage, with potential for a mega-scale plant at a coastal location being able to provide maritime vessels with liquid air.
Introduction
The cost-competitiveness of many renewable energy technologies requires access to energy storage technology. As a result, there has been much investment into the development of grid-scale energy storage technologies such as compressed air storage for wind power, ocean wave and ocean tidal current conversion. The solar thermal sector has developed heat-of-fusion thermal energy storage to store energy for use after sunset. The technology can also be applied to nuclear power stations to store off-peak thermal energy that can be redeployed during peak demand periods. Much progress has also occurred in grid-scale electrical battery technology.
Stationary grid-scale technology such as the vanadium-oxide flow battery and its competitor, the high-temperature liquid metal battery can both deliver over 20,000-deep discharge cycles. There is scope to apply both technologies to inland waterway maritime propulsion courtesy of the nature of the scale of the transportation technology and its operating characteristics. High-pressure spherical storage tanks built to 48-inches internal diameter can hold compressed air to sustain the operation of air-over-water propulsion in ferry vessels, with water under pressure driving a motor and in turn a propeller. Development of grid-scale liquid air energy storage offers possible maritime propulsive applications.
Compressed Air Propulsion
During the early to mid-20th century, mining locomotives were powered by compressed air and carried tanks of hot water to preheat the air prior to expansion in the cylinders. Air temperature rises under compression. Heat pumps can transfer the heat into the thermal storage material, so as to increase the density of stored compressed air. Ultra-high pressure spherical tanks built to 48-inches inside diameter can hold 10.7-cu.ft of compressed air at 5000-psi (70-bar) that if cooled to seawater temperature, incur a density of 20 to 25-lb per sq. ft. or…


Read more:: Using Liquid Air for Energy Storage and Maritime Propulsion