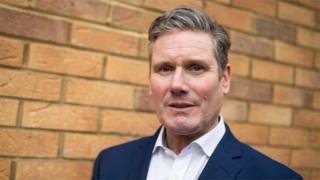 Sir Keir Starmer has been warned against "watering down" the "radical policies" he promised during his campaign to become Labour leader.
The Fire Brigades Union told the BBC he must not "cede any ground" to the Conservatives and fight for "root-and-branch" reform of society.
General Secretary Matt Wrack added that he had not "heard Keir make that case" since becoming Labour leader in April.
Sir Keir has urged the party and unions to "stand together like never before".
Labour's four-day annual conference, the first under his leadership, began on Saturday.
Renamed Labour Connected, it is taking place online and will not feature votes, but the party's major figures will still give speeches and take part in discussions.
In his campaign to become leader, Sir Keir set out 10 pledges.
Among these was putting a "Green New Deal at the heart of everything we do", including a Clean Air Act to tackle pollution at a local level, and demanding "international action" on "climate rights".
Sir Keir also pledged to work "shoulder-to-shoulder with trade unions to stand up for working people, tackle insecure work and low pay".
He said a Labour government under him would repeal the Conservatives' 2016 Trade Union Act, which makes industrial action more difficult.
Mr Wrack, whose FBU is one of the more left-leaning of the 12 Labour-affiliated trade unions, said: "Our present crisis has only made the case for that platform more urgent, but we haven't yet heard Keir make that case in opposition."
He said the Labour leader should promote the Socialist Green New Deal, agreed at last year's party conference.
It calls for net-zero carbon emissions by 2030, bringing the energy sector into public ownership and the creation of hundreds of thousands of jobs in the environment sector, on union-negotiated rates of pay.
Mr Wrack said: "We look forward to seeing Keir making [the Socialist Green New deal] his own. But that can't mean any watering down of the radical policies we fought for.
"We don't want to see Labour cede any ground to the Tories, full stop – not least on the greatest issue of our time."
Paper straws
Mr Wrack called Labour Connected "a chance for…


Read more:: Labour conference: Don't water down pledges, Starmer warned