The pool of water didn't look too deep, so Steven and Christy Parker drove through, heading to a medical appointment they couldn't miss. But then, water started to rush in.
Passing cars sent a wave into the Parkers' vehicle as heavy rains raked downtown Charleston Friday. In the passenger seat, Christy Parker felt the grip of a panic attack. So, just steps away from the hospital, the couple called 911. They waded out into the knee-high water, which smelled of sewage. Then, they watched from a sidewalk near Storm Eye Institute as their silver Hyundai filled up.
This spot on the Medical University of South Carolina campus is known to flood, as it did Friday when a pounding afternoon rainstorm snarled traffic and drowned vehicles like the Parkers'.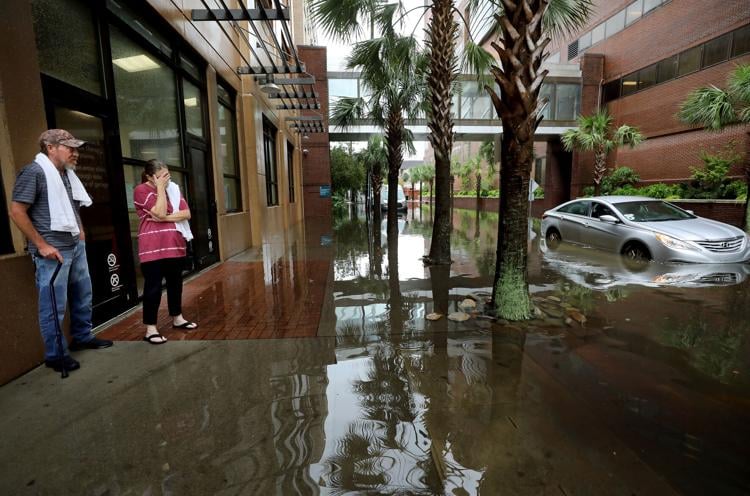 As climate change brings ever-more frequent floods to the low-set Medical Mile, some wonder whether the region's premier medical institutions should be there at all. The rainfalls and hurricane surges that swamp the district are, already, a drain: persistent flooding has sapped an estimated $45 million from the institutions in the past five years, they estimate.
Climate change's urgency hadn't made its way into board room conversations in Charleston by the time the Medical University of South Carolina committed to a 20-year expansion plan in the early 2000s. The hospital system banked on flooding issues being fixed over time by the city of Charleston. But since then, the flooding has continued. During a tropical storm in 2017, personnel criss-crossed the campus in boats. MUSC even bought a military surplus high-water vehicle to make sure staff can move between hospitals. 
Billions in investments made over more than 200 years have sealed the three hospitals' futures between Rutledge Avenue and Lockwood Drive, a low-lying basin on the western edge of the Charleston Peninsula.
MUSC and Roper St. Francis have together funneled at least $870 million into major projects on the campus since 2000, according to newspaper archives.


Read more:: Plagued by some of Charleston's worst flooding, hospitals in medical district pl…