For over 10 years, Pedhla villagers have been getting water only once in 15 days, forcing them to use water as sparingly as most people use petrol. Panchayat blames broken pipeline for their plight; protest by villagers finally pushes panchayat to seek TDO's help

By Nischal Sanghavi

E very morning, women in Pedhla village wake up at the crack of dawn and walk 3-4 km to their farms so that they can wash their clothes and save some water. While all the dams and rivers in
Saurashtra
are flowing to the brim due to good rainfall, Pedhla village – located about 75 km from
Rajkot
– has been deprived of clean, potable water.
Their taps run dry as water from the Narmada is released only once in 15 days, forcing them to think multiple times before using their toilets as that would mean using up precious water to keep it clean.
Without regular water supply, the village with a 5,000-strong population is forced to rely on expensive water tankers.



"The situation is such that if you want to go to the toilet, you have to think a hundred times. Many urinate or defecate outdoors in order to save water. Those who go to toilets at home re-use water left over from washing utensils or clothes to keep it clean," says Haresh Sarvaiya, a resident, who owns a small unit manufacturing industrial products.
"Villagers have been experiencing a water crisis for years now. Though all the dams, rivers, and lakes in our region are overflowing, we get water only once in 15 days. We do not have any other option but to shell out huge sums to get water tankers. We have been complaining about the matter to the sarpanch and talati mantri, but they just rudely fob us off saying that they cannot do anything," he adds.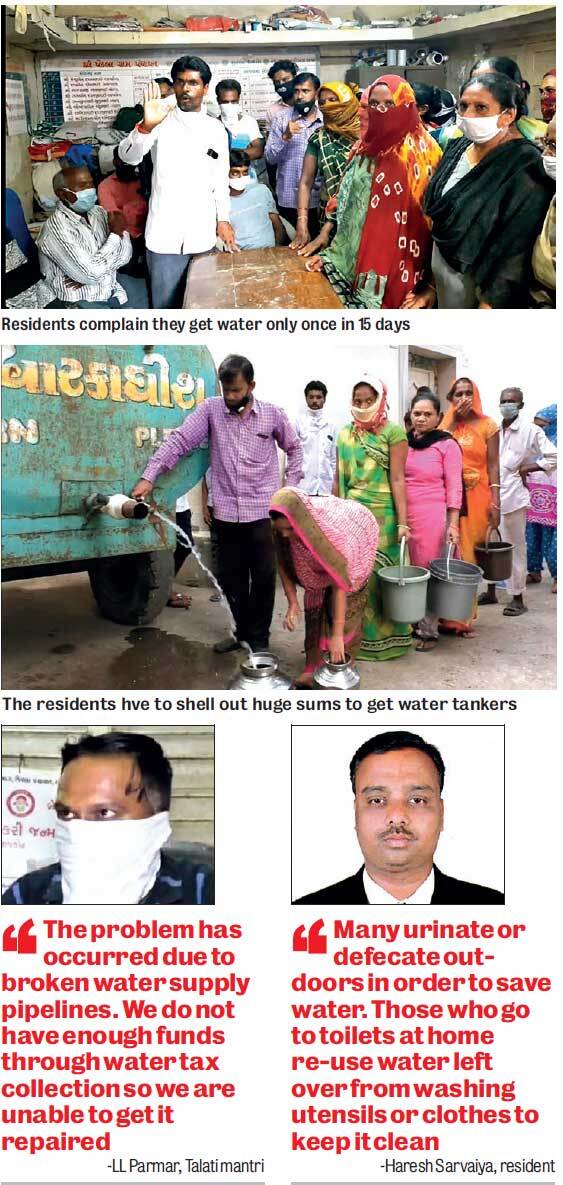 Farmer Kishor Sadariya says, "We have been facing water shortage for more than 10 years. We use water like most people use petrol – quite sparingly. When we get guests, they never stay for the night due to the water shortage. If they stay, it becomes a problem for all the residents."
The villagers, who finally reached the end of their tethers, approached the gram panchayat office on Monday.
Female villagers carried clay pots containing water to the panchayat office and broke them on the premises to show their annoyance.
Talati mantri L L Parmar said, "The problem has occurred due to broken water supply pipelines. We do not have enough funds through water tax collection so we are unable to get it repaired."

After the villagers united to make an aggressive protest, the panchayat finally put in a request to the taluka office.
The talati mantri and sarpanch were left speechless when asked why the problem had not been resolved for so long. Small repairs costing Rs 20,000 can be done at panchayat level while major repairs that cost around Rs 5 lakh would have to be sanctioned by the taluka development officer (TDO).

Sarvaiya alleged that panchayat never used funds for the village's benefit and there was no one to question this apathy. "Repairing water…


Read more:: Pedhla barely gets drop to drink