Since its founding in 2003, US Water Systems has built a sizable national customer base with its water purification and treatment systems.
When the pandemic struck and medical professionals began to learn how the coronavirus was transmitted from person to person, the Indianapolis-based company quickly pivoted to devise a high-tech method to purify the air through which the virus is often spread.
As interest in the new offering has grown, so has the company's revenue. Company officials said that despite the pandemic, the firm is experiencing double-digit-percentage revenue increases this year. Officials for the closely held private company declined to divulge revenue figures.
When the company's vice president of operations suggested in March that the company look into applying its expertise in purifying water with UV-C light to air and hard surfaces, the company's co-owners, husband-and-wife duo Mark and Patty Timmons, kicked the effort into high gear.
"Very quickly, we realized there was a real need," said Mark Timmons, the company's president. "There was a serious shortage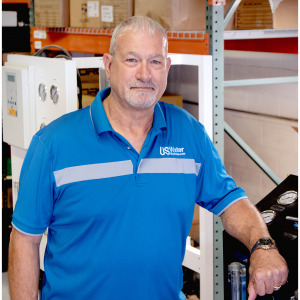 of surface cleaners, so we could tell people were struggling to deal with this."
US Water Systems' brand of hydrogen peroxide started flying off the shelves. "People were buying it by the semi load," Timmons said.
This spring, US Water rolled out its first UV-C air purifying solution, and already the company has made more than 1,000 sales spanning 26 states.
"We very quickly saw a demand for this," said Patty Timmons, the firm's CEO. "People were finding us. There were quite a few in-bound calls."
A new company website launched earlier this year along with the hire of a full-time online marketer helped fuel sales.
Using technology to innovate is nothing new for US Water, the company's co-founders said.
The company, which launched in the garage of the Timmons' home, pioneered a water softener controlled by an app and it is developing other products, including a reverse osmosis water treatment system connected to an internet of things app.
"We're on the cutting edge of technology in everything we sell," Mark Timmons said.
US Water, which has 46 employees and works out of a 35,000-square-foot facility on the west side, offers three UV-C air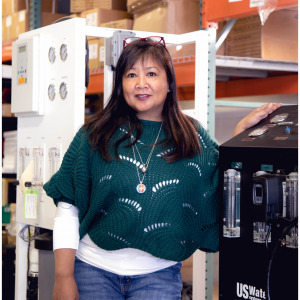 purification solutions.
The least expensive system is installed within an existing HVAC system and costs as little as $500.
Another system, which costs $3,000 to $4,000, is installed into the ceiling and has a fan that pulls air through and exposes it to a shielded UV light. Direct exposure to UV light can be harmful to people.
US Water also makes a portable UV-C unit that can be moved from room to room. It costs up to $4,500.
The UV air purifying systems can be used in homes or businesses, but the couple said 90% of firm's sales have been to businesses.
US Water has sold UV-C air purification units to colleges and universities—including Ball State,…


Read more:: Water-purification firm expands into high-tech air purification to fight COVID-1…