WATERFORD TOWNSHIP, Mich. (AP) — Joe Biden enters the final weekend of the presidential campaign with an intense focus on appealing to Black voters, whose support will be critical in his bid to defeat Donald Trump.
The Democratic nominee was to team up Saturday with his former boss, Barack Obama, for a swing through Michigan. They will hold drive-in rallies in Flint and Detroit, predominantly Black cities where strong turnout will be essential to return this longtime Democratic state to Biden's column after Trump won here in 2016.
The memories of Trump's upset win in Michigan and the rest of the upper Midwest are still searing in the minds of many Democrats during this closing stretch. That leaves Biden in the position of holding a consistent lead in the national polls and an advantage in most battlegrounds, including Michigan, yet still facing anxiety that it could all slip away.
Trump, meanwhile, made an aggressive play for nearby Pennsylvania, focusing largely on his white, working-class base. The president had four stops scheduled Saturday in the state, stretching from the far eastern corner close to Philadelphia to the western edge north of Pittsburgh.
Republicans are betting that Trump can win a second term by driving up turnout among his strongest supporters — white, non-college-educated men and rural voters — while limiting Biden's advantage with Blacks and Latinos. Democrats in several swing states worry that voters of color may not be excited enough about Biden to show up in the numbers they need.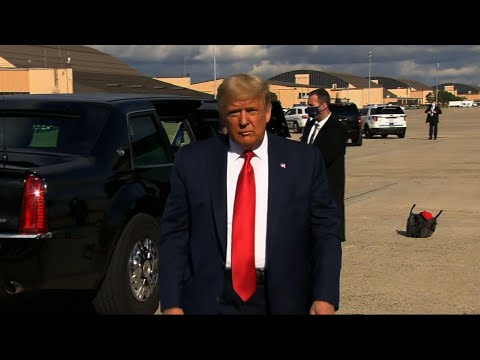 In Michigan, Rep. Dan Kildee, a Democrat who represents the Flint area, said he had been pressing for a couple of months for Biden or Obama to visit Flint, a majority Black city bedeviled by a water crisis that began in 2014 and sickened the city's residents, exposing stark racial inequities.
"Showing up matters," Kildee said. "The message is important, no question about it. But there's a message implicit in showing up, especially in Flint. This is a community that has felt left behind many, many times and overlooked many, many times."
R&B legend Stevie Wonder was to perform in Detroit after Biden and Obama speak.
Even before he faced Michigan voters on Saturday, Biden's campaign announced it was dispatching Obama to south Florida and Georgia on Monday.
Obama, the nation's first Black president, serves as the Biden campaign's most valuable asset to help energize the non-white voters Democrats so badly need to defeat Trump. While south Florida's minority population is critical, Obama's plan to visit Georgia on the eve of the election was particularly notable. It indicates that Biden's team believes he can become the first Democrat since 1992 to carry Georgia.
The press for Michigan's Black voters comes after voting was down roughly 15% in Flint and Detroit four years ago — a combined 48,000-plus votes in a state Trump carried by about 10,700 votes. Overall, the Black voter turnout rate declined for…


Read more:: Biden, Obama make a final appeal to Michigan's Black voters