If current trends continue and Joe Biden enters the White House on 20 January, he will face arguably the biggest set of challenges a president has had to tackle since the end of the second world war. The coronavirus is raging through the US, millions of Americans are still losing their jobs each month, and the climate crisis – ignored by the Trump administration – is deepening.
Biden has set out his economic and policy plans but without control of the Senate he may struggle to realise them. Official GDP figures for the third quarter showed the size of the economy was still almost 4% below its previous peak despite a 7.4% recovery from the spring lockdown.
At present it looks certain that the Democrats will control the House of Representatives but we will have to wait for the results of special elections in Georgia before we know who controls the Senate. A Republican majority would block many of his proposals.
Like Donald Trump, Biden can use executive orders – basically presidential decrees – to circumnavigate political roadblocks. While those orders would have major consequences, Biden is likely to struggle to pass significant legislation without Democratic control of both branches of Congress.
But here are the some of the key elements of Bidenomics:
Stimulus package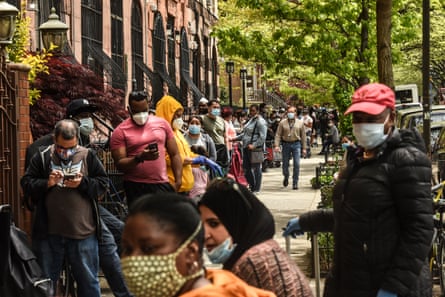 People wait on a long line to receive a food bank donation at the Barclays Center on 15 May 2020 in Brooklyn, New York.

Photograph: Stephanie Keith/Getty Images
The US economy is still reeling from the impact of the coronavirus pandemic. But after an initial bipartisan bailout, further aid stalled ahead of the election. Biden hopes to implement an Emergency Action Plan to Save the Economy in the early days of his presidency.
He intends to use wartime legislation known as the Defense Production Act (DPA) to compel US businesses to make personal protective equipment (PPE), medical supplies, ventilators and whatever else the US needs to tackle the pandemic. The DPA gives the president broad powers to force a business to come to the aid of the country.
Biden has also set out plans to increase unemployment insurance, send more direct payments to struggling Americans, forgive some student loans and provide more aid to small businesses.
But – and it's a big but – Biden will probably need Republican support for a major stimulus package. And after running up the biggest budget deficit in history under Trump, the Republicans have begun talking about the necessity to balance the books once more.
Last month the Congressional Budget Office estimated that the US deficit hit $3.13tn in its fiscal year 2020, which ended on 30 September. As a percentage of the overall economy, the deficit is at its highest level since just after the second world war.
'Green-ish' new deal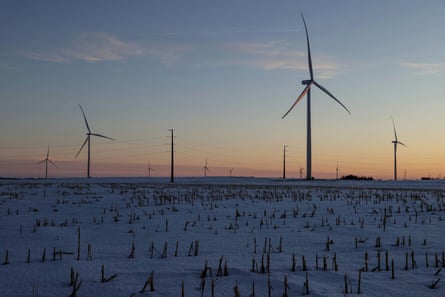 A wind farm shares space with corn fields the day before the Iowa caucuses, where agriculture and clean energy are key issues, in Latimer, Iowa.

Photograph:…


Read more:: Big Tech and corporate tax cuts: the targets of Joe Biden's urgent economic plan…