Ma Jun experienced a strange role reversal during Donald Trump's presidency. Over more than two decades as one of China's top environmental campaigners, American encouragement for Beijing to cut carbon emissions and temper the damage of rapid industrialisation had been part of the background music. Ma never imagined he would see the US renege on environmental commitments while China began to face up to the challenge.
"It's been frustrating," says Ma of the past four years as we speak on the phone, the bustle of Beijing audible in the background. "When it comes to environmental collaboration between the governments, it has been hard to do anything."
Before the US election, the Chinese foreign ministry issued a 12-point excoriation of Washington's record on the environment, criticising the Trump administration's decision to withdraw from the Paris climate agreement and failure to protect wildlife – even condemning methane gas leaks from fracking. While the criticisms were likely made in response to a similar State Department factsheet in September, the old dynamic between the two powers on the environment appears to be over.
"China has started changing its course. We have seen a lot more 'walk the walk' action. China has adopted some tough measures to try to deal with the pollution and environmental damage problem. And we have seen some progress made because of that," Ma says.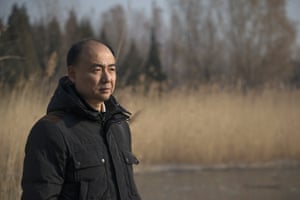 When the 52-year-old former investigative journalist wrote the now seminal China's Water Crisis – published in China in 1999 and the west in 2004 – air pollution, contaminated water and deforestation were largely accepted as the price of China's rapid economic development. Ma's writing on the pollution crisis helped provoke an environmental awakening.
More than two decades later, China is preparing to host major talks on the environment for the first time at Cop 15 in Kunming in 2021, where the international community will sign up to a Paris-style agreement for nature. President Xi Jinping has pledged to achieve carbon neutrality before 2060 and ensure China's greenhouse gas emissions peak during this decade. The next five-year plan, currently being developed, could be the greenest yet.
"I think most importantly for China to change its course was the voice made by the Chinese people, by the citizens," says Ma. "The issue around smog has made a big difference. So many started making their voices heard. Eventually, the government started monitoring and disclosing truthful information." While more than a million people still die early every year due to air pollution in China, the number of deaths has started to drop and air quality is improving.
"The more action taken, the more confidence it gives to decision makers that it will not lead to a massive disruption of society," adds Ma.
Undoubtedly,…


Read more:: Ma Jun: China has started to 'walk the walk' on climate crisis | Environment