In 2016, a debt-ridden farmer from Maharashtra's Dhamangaon village died by suicide, after he failed to generate any income from his 120-acre farm.
The local river had dried up, and this, coupled with insufficient rainfall, left him with no other choice than to take the extreme step. While this was the first and only suicide case reported in the agrarian village, the drought problem has been prevalent for the last two decades. Unchecked groundwater extraction has led to an imbalance in the ecosystem, preventing rainfall catchment.
Dr Ujjwal Chavan, Joint Commissioner of Income Tax in Mumbai, who is originally from Dhamangaon, was shocked by the farmer's death.
A year later, he launched an ambitious water conservation project in the village to rejuvenate the river and improve groundwater tables. He spent the next year travelling to the village over the weekends, to mobilise villagers and start the construction of water reservoirs and small dams.
Today, the village is drought-free, and can store 22 crore litres of water, which suffices the area's water needs for 10 months. The 2010-batch IRS officer has also implemented the same model in 16 other villages of Jalgaon district, making all of them drought-free within three years.
"It was a joint effort," Chavan tells The Better India, and adds, "Various stakeholders, including the village people, the district administration, tehsildars, NGOs and school teachers, worked in unison to achieve the target. All of them were motivated by the water crisis, which had disrupted many lives."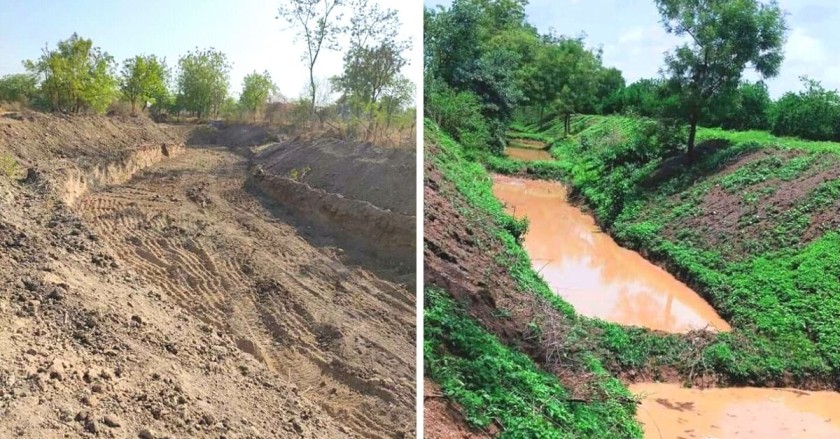 It is not uncommon for civil service officers like Chavan, who are inspired by their own experiences, to go the extra mile. His father was a farmer and mother, a school teacher. So while growing up, Chavan was exposed to both deplorable farming conditions as well as the importance of education. He always wanted to join the civil services to bring about grassroots changes. However, he studied MBBS before attempting the UPSC in 2010.
Before delving into how Chavan achieved the impressive feat, here's a brief about the acute water shortage that hampers the livelihoods of thousands.
Agriculture: Disguised unemployment
Things drastically changed in the late nineties, when several farmers in Chavan's village, including his maternal grandparents, shifted from the two-crop system to one. This was a direct result of rampant digging of wells to extract groundwater in the absence of sufficient water supply from the river.
"There were no porcelain machines 30 years ago, so villagers manually dug the wells without realising the extent of the damage. The depth of the wells went as deep as 70 feet, which triggered a severe water crisis. Farmers were able to farm only during monsoons, and there was no income for the rest of the year. This led to forced migration to urban areas for livelihood. Only the elderly remained in the village, and there was hardly any expenditure. This limited the economic cycle of…


Read more:: IRS Officer Saves 102 Cr Litres of Water, Makes 16 Villages Drought-Free in 3 Ye…