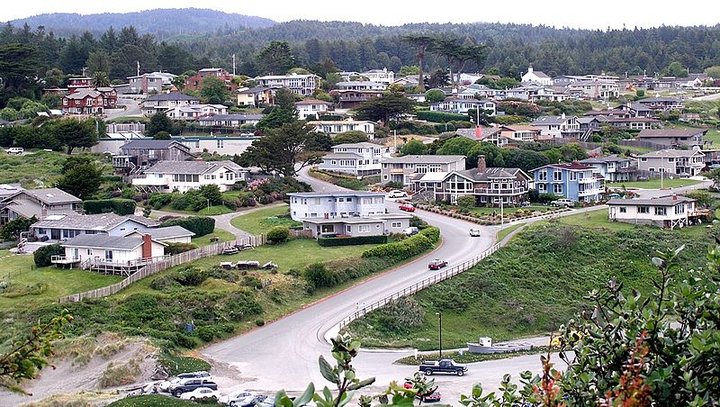 PREVIOUSLY: 
###
The Trinidad City Council on Tuesday will consider whether to participate in a feasibility study for a project that would bring a steady flow of water to the city from the Mad River via a new pipeline. 
The Humboldt Bay Municipal Water District (HBMWD), which supplies water to Eureka, Arcata, McKinleyville, Blue Lake and other area communities, is in the early stages of researching the possibility of expanding its service area north via a waterline extension at least as far north as the Trinidad Rancheria, where tribal leaders have been searching for a reliable water source to supply a proposed five-story, 100-room hotel near Cher-Ae Heights Casino.
Trinidad's water is currently supplied by Luffenholtz Creek, which rises and falls fairly dramatically with seasonal rainfall. During recent drought years, it has fallen to particularly low levels. City leaders, conducting long-range water planning, have identified the HBMWD as a possible source of "water resilience."
However, some area residents, including Fifth District Supervisor Steve Madrone, are vehemently opposed to the pipeline proposal because they believe it could pave the way for future development that could spoil the region's rural charm, and in recent days they've been sending letters to the Trinidad City Council urging it to shun the proposal. 
In a letter sent dated Monday, for example, Edward C. Pease, who lives northeast of city limits, says, "Once unlimited (untreated) water is available, forested hillsides from Moonstone to Big Lagoon that are now unsuited for development suddenly become prime building lots, and the area will be prime for a development boom. Such development would destroy the Trinidad area, and make us just another bustling California coastal town."
A group of activists aligned under the banner of the Humboldt Alliance for Responsible Planning (HARP) has steadfastly fought against the proposed hotel on Trinidad Rancheria property, and now they're speaking out against the pipeline. 
One member of that group, Trinidad area resident Jane Williams, began her letter to the council in all caps:
"I AM UNEQUIVOCALLY AND PERPETUALLY AGAINST UNLIMITED GROWTH
NORTH OF LITTLE RIVER!" it reads. "I am asking the city council to not EVER get
involved with bringing water in pipelines north of Little River."
Madrone, in his own letter to the council and community, says that while all locals are concerned about water resiliency for the greater Trinidad area, the best solution would be to focus on increasing rainwater collection and hard tank storage. The pipeline, by contrast, would induce growth, he argues.
"Increased growth means increased crowds in town and at beaches and on
trails," his letter states. "Imagine the kinds of crowds we saw this summer being here all
year long and even bigger in the summer. Our community is at a critical
juncture in deciding what kind of community we want in…


Read more:: Trinidad to Consider Joining Feasibility Study for a Pipeline Extension from Hum…