Air Date: Week of
February 12, 2021

stream/download this segment as an MP3 file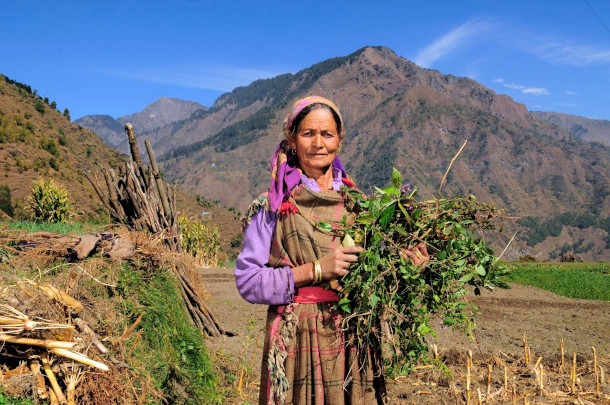 According to Oxfam India more than 75% of rural women in India who work full time are farmers but less than 13% of them own the land they till. Women have been a powerhouse throughout the protests, holding fort and cooking all in hopes in securing their jobs and land for future generations. (Photo: Niel Palmer, CIAT, Flickr, CC BY-SA 2.0)
India is experiencing dramatic climate impacts, with both increased flooding and drought. Farmers throughout the country have been struggling to survive, and in September 2020 the Indian government passed legislation that thousands of farmers have gone on strike against, fearing they won't get a fair price for their crops. Omair Ahmad, the South Asia editor for The Third Pole joins Host Bobby Bascomb to talk about Indian farmers' protests and how the climate crisis is changing agriculture in India.
Transcript
CURWOOD: From PRX and the Jennifer and Ted Stanley Studios at the University of Massachusetts Boston, this is Living on Earth. I'm Steve Curwood.
BASCOMB: And I'm Bobby Bascomb. India is home to more than 1.3 billion people and more than half of them make their living from farming. Massive farmer led protests and strikes erupted in India recently when the government announced new laws that farmers say would add an additional burden to their industry already struggling in the face of widespread droughts and floods.
[PROTEST SOUNDS]
BASCOMB: Millions of farmers and their allies have flooded into major cities over the last few months to block roadways in protest. The Indian government has used tear gas to try to break up the demonstrations and at least one person has died. We'll get into the new controversial laws in a moment but the struggle for Indian farmers started way before these protests. Climate change has dramatically altered the monsoon season that farmers rely on for water, forcing many to abandon farming all together. For more I'm joined now by Omair Ahmad, the South Asia editor for The Third Pole.
Omair welcome to Living on Earth!
AHMAD: Thank you for having me.
BASCOMB: I understand that climate change is taking a toll on farming there, the monsoon rains have changed. They're shorter and more intense followed by months of drought. Can you tell us more about that and how it's affected agriculture in India.
AHMAD: So, floods and droughts are the clearest indicator of climate change, right? And it's as explained by scientist, the hotter the air is, the more water it will hold. As the air heats up, it's takes more water for terrain. And when it rains, it does a lot more in a shorter time span. So that basically means you've got longer…


Read more:: India's Farm Crisis and the Climate Emergency