City trees are important: they purify the air, reduce heat islands, help regulate the water cycle and provide immense health benefits. Yet unbridled development threatens the survival of the urban forest and the full range of ecosystem services it provides.
The magnitude of these services is closely linked to the importance of the canopy, which is the area covered by treetops. It is generally characterized by an index that relates the sector covered by the tops to the total size of an area.
A recent study of the natural canopy in the areas covering Québec City, Beaupré, l'Île d'Orléans, Lévis and other communities along the St. Lawrence River found it generates more than $1.1 billion in annual benefits.
Water supply, flood reduction, air quality improvement and carbon sequestration were among the ecosystem services — the benefits people derive from the ecosystem — that were considered. In this context, several major cities have set ambitious canopy expansion targets.
---


Read more:
Sustainable cities after COVID-19: are Barcelona-style green zones the answer?


---
However, these objectives face several significant challenges. Residential construction and the development and renovation of infrastructure tend to reduce the urban canopy. Part of this reduction is directly related to the space occupied by the infrastructure, while another part is the result of damage to trees during installation.
As a forest engineer and professor of silviculture and urban forestry, my research investigates the stability of trees against wind in natural, urban and rural environments. I was interested in the effect of species, soil type and apparent defects on the resistance to stem breakage and uprooting.
Direct damage
Construction in a wooded environment brings about general changes in the trees' growing environment. By opening the canopy, trees become exposed to stronger winds, which increases their need for water and can compromise their stability.
During construction in a wooded environment, surfaces may become impermeable. This reduces water flow into the soil and promotes water runoff. In combination, these two factors can lead to water stress and eventually trees dying a few years after construction.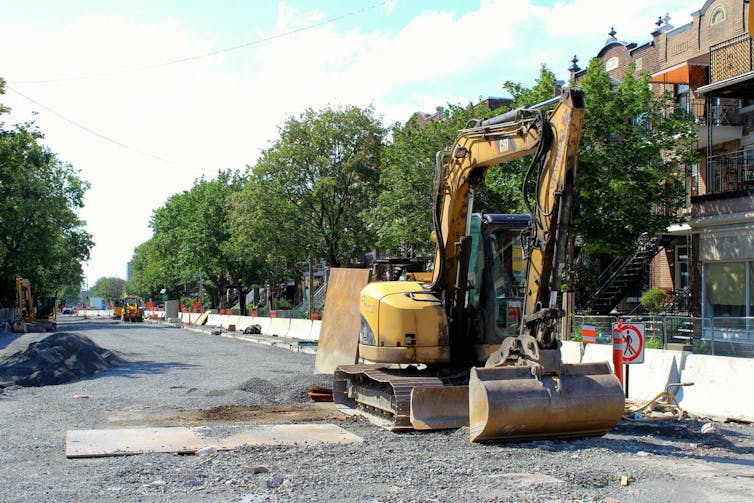 Construction near existing trees can cause direct damage to the aerial part of the tree, which is quite easily visible. Damage to the root system will be much more subtle but can have more important consequences.
Roots play many roles including the accumulation of reserves, anchoring to the ground and the removal of water and nutrients. Damage to the roots will affect their ability to perform these various functions, with consequences…


Read more:: Never-ending construction in cities threatens the urban forest