As millions of Texans have been left without heat amid a power outage during a historically freezing winter storm, many are now reportedly running low on oxygen supplies.
Comfort Homes Director of Operations Kasey Breidenthal told WANE 15 there is a growing concern for people who are on oxygen or need electronic devices for their health. 
In the Dallas suburb of Richardson, a woman who relies on an oxygen machine had to be taken to a local hospital and then a dialysis center where the machine was charged, the Texas Tribune reported. 
In San Antonio, officers have been dispatched to help residents without power or food. 
Further south, along the Gulf of Mexico, volunteers have rescue some 4,500 sea turtles from frigid waters this week, FOX 29 reported. Experts told the outlet the turtles became "cold-stunned" when the water dropped to around 50 degrees. 
About 7 million people in Texas were told to boil their water or stop using it entirely as homeowners, hospitals, and businesses grappled with broken water mains and burst pipes, many in areas unaccustomed to dealing with sustained frigid temperatures.
BETTE MIDLER CLAIMS TEXAS OUTAGES IS GOD PUNISHING SENATORS TED CRUZ, JOHN CORNYN
The Texas city of Kyle, south of Austin, asked residents Wednesday to suspend water usage until further notice because of a shortage.
Meanwhile, the CEO of ERCOT, the Texas energy agency that shut off the power Monday amid a brutal winter storm that has killed at least two dozen people dead and millions without heat, said Tuesday night he has no idea when the power will be restored for the state.
Bill Magness told CBS Austin in an interview Tuesday night that the Electric Reliability Council of Texas (ERCOT) actually avoided a potentially bigger crisis by shutting down the power grid.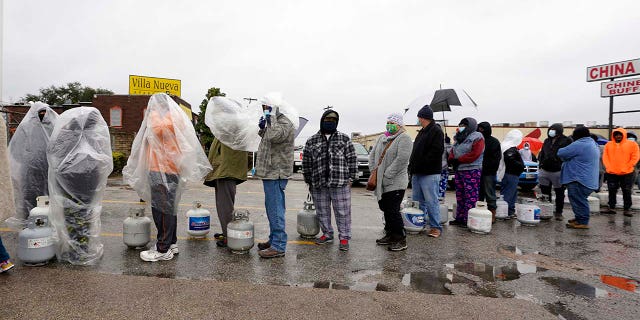 "The reason why is these outages have to exist is the electric system's got to be managed where supply and demand are in balance all the time," Magness told the outlet. "If you have a big imbalance on the supply of electricity and demand, you can have catastrophic failures in the system."
ERCOT managers approximately 75% of Texas' power grid. Magness said the systems impacted by blackouts can potentially take a very long time to repair and be "very dangerous to people."
"The only way we can keep it in balance and keep it in control is to do outages," Magness said. "Our number one priority is getting the power back on for as many people as we can, but we have to do it in a safe way and reliable way that keeps the system in tact, so we can use it in the future."
STAYING SAFE DURING EXTENDED POWER OUTAGES: WHAT TO DO IN THE ABSENCE OF HEAT, REFRIGERATION AND ELECTRICITY
Magness was not able to say definitively when the power would resume, but he hoped many customers would see at least partial service restored by later Wednesday or Thursday.
Magness also defended the decision to force…


Read more:: Texans running low on oxygen, energy company can't say when power will be back a…