And why am I interested in monitoring this particular lake? In years past I have been able to paddle my kayak from Pearce Ferry, on the east end of Lake Mead, into the very pretty western Grand Canyon, but in the past few years (writing in 2005), the east end of the lake has dried up, making an enjoyable outing impossible until the water rises again — assuming it ever does…
— from Paul Lutus' 'Arachnoid.com' blog, tracking the decline of Lake Mead.
We posted an opinion piece yesterday morning by activist Gary Wockner, one of the Coloradans most skeptical of the Colorado Water Plan and the ongoing efforts by numerous agencies to divert ever more water out of our streams and rivers.
His op-ed refers to the Federal Energy Regulation Commission (FERC) permit approval for a new water diversion out of Lake Powell:
FERC identified in its order numerous and fatal flaws of this project including lack of access to tribal and federal lands, no consent from the Navajo Nation, failure to initiate government-to-government consultation with the tribe, infeasibility of the project due to climate change, and the effects of the project on water rights and water resources, threatened and endangered species, and water quality, among others. Despite these red flags, FERC cursorily dismissed each of the concerns as premature and inconsequential, and granted the permit.
Mr. Wockner also quotes Samantha Ruscavage-Barz, Legal Director at WildEarth Guardians:
"Basic climate science reveals that Lake Powell is not a reliable water source for this ill-conceived project."
The reference to 'basic climate science' refers to recent computer models that show a drier climate throughout the American Southwest over the next few decades, allegedly due to the continued use of fossil fuels all around the globe. But even without access to clever computer models, we have all seen Lake Powell and Lake Mead — America's two largest water reservoirs — struggle to remain even half full, as we watch water users extract more water than nature can replace.
At the beginning of today's installment, I shared a brief quote from Paul Lutus' 'Arachnoid.com' website, where he discusses the falling water level in America's largest water reservoir, Lake Mead. Mr. Lutus also maintains, on his website, a regularly-updated graph of the water levels in Lake Mead, apparently because he is a recreationalist.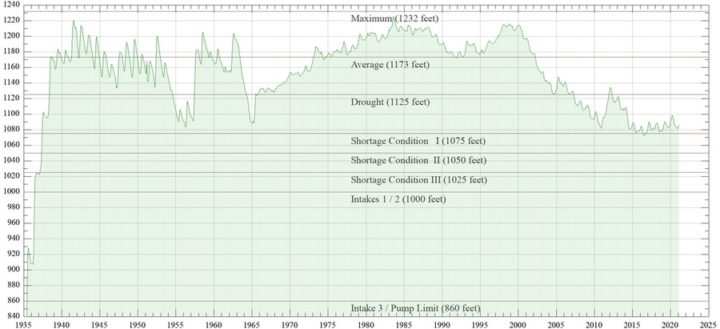 As we can see from this chart, Lake Mead — created by the new Hoover Dam in 1935 — was nearly full in the summer of 1941, but its ability to remain full has been challenged by climatic variations. Following 2001, the reservoir levels took on a steady decline, and recently have been barely above "Shortage Condition I".
The federally-funded reservoir had two main purposes. First, it was designed to smooth out the damaging and unpredictable "flooding, drought, flooding, drought" cycle of the Colorado River as it flowed past…


Read more:: EDITORIAL: Dragons, Unicorns, and Colorado's Water Crisis, Part Six