Plastic pollution and climate change are two prominent environmental issues of our time. Plastic was once thought to be a miracle invention that made life simpler for families.
But just as our exploitation of fossil fuels led to climate change, the unsustainable use of plastic materials has led to a global environmental catastrophe. To this day, plastic pollution has infiltrated every part of our planet, from remote mountain lakes to the ocean to the very air we breathe.
The unsustainable consumption of nonrenewable resources is the common root of both these problems, and beneath the surface, there are many links between these two issues.
Plastic is part of the carbon cycle
To better understand how plastic particles move through the environment, scientists should investigate their transport as they do for nitrogen, carbon and water.
To do this, they should formally adopt the terminology used to study these biogeochemical cycles, including "reservoirs," which are places of storage, and "fluxes," which describe the movement of substances from one place to another over time. This will help us understand the transport mechanisms and fate of plastic pollution in the environment, which are major gaps in the field today.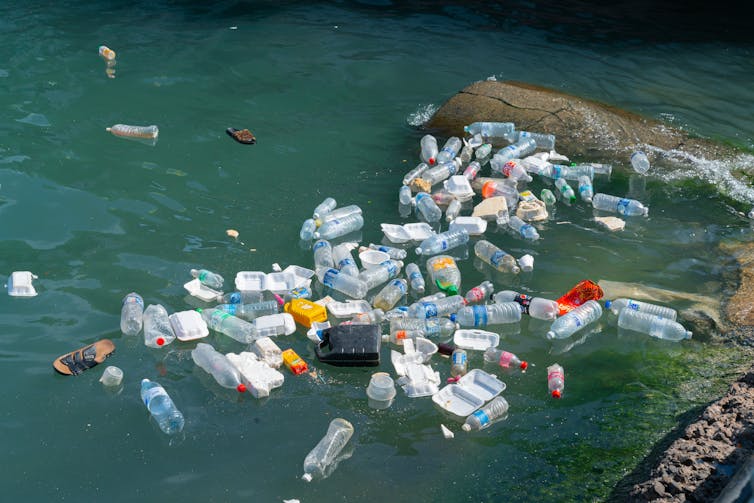 In fact, all the plastic that has ever been produced is part of the carbon cycle. Overall, an enormous seven gigatonnes — or seven billion tonnes — of plastic have been produced, mainly from chemicals extracted from the fossil carbon reservoir. This is not much different from the roughly 14 billion tonnes of carbon emitted into the atmosphere every year from the same reservoir due to human activities.
Plastic transports carbon in different ways. For instance, plastic can become incorporated into living organisms, or settle to the bottom of the ocean as aggregates of plastic and organic matter. It can also release greenhouse gases at every stage of its life cycle, from production to transportation to waste disposal. Scientists and governments should investigate how plastic pollution transports carbon because nutrient redistribution has implications for the livelihoods of ecosystems and the well-being of living organisms.
Since plastic polymers are so persistent, almost every piece of plastic we have ever produced is still somewhere on this planet. This suggests, due to the sheer amount of plastic pollution, that plastic pollution is on the same scale as global transport processes of carbon, also on the order of gigatonnes.
The key takeaway is that plastic pollution has its own cycle, and that it may also play a fundamental role in the carbon cycle snuck in a few links to my opinion piece to further promote it, if that's alright! — the movement of carbon between…


Read more:: Plastic is part of the carbon cycle and needs to be included in climate calculat…