Editor's note: This is the second in a two-part series about the people and agencies who patrol our local waters.
Andy Mele is a man on a mission — protecting our waterways from man-made pollution.
The Punta Gorda resident recently founded Peace+Myakka Waterkeeper.
Mele and volunteers will take water samples, similar to what the Calusa Waterkeeper nonprofit does on the Caloosahatchee River, to monitor the Peace and Myakka rivers' water quality.
The nonprofit will serve as our waterways' watchdog, so to speak. Its mission: "To preserve and protect water quality and ecological integrity in the watersheds and estuaries of the Peace and Myakka rivers of Florida."
Board members are Arne Carlson, former governor of Minnesota; Justin Bloom, founder of Suncoast Waterkeeper and Clear Water Act attorney; Brooks Armstrong, president of People Protecting the Peace River (3PR); and Mary Lundeberg, wildlife photographer.
An environmental scientist and published author, Mele is known for championing environmental causes throughout the state and nation. Last November he ran for state representative in District 71 (Manatee and Sarasota counties), with the environment a key part of his platform. He lost to the incumbent, but his environmental message was heard.
The fight for clean water continues
Mele didn't quit fighting for environmental causes after the election. Along the way he met Cheryl Berlon, a community fundraiser and volunteer, and he moved to Punta Gorda from Sarasota.
Doing what she does best, Berlon added Peace+Myakka Waterkeeper to her priority list for fundraising activities, as she shares Mele's mission.
To do his work, Mele needed a boat. In February he purchased a decommissioned Coast Guard 25-foot Zodiac Hurricane used for "search, rescue and interdiction."
The vessel was purchased by the Coast Guard in 2008, and "halfway through its service the engine was replaced with a 315 horsepower Yanmar Marine diesel," Mele said.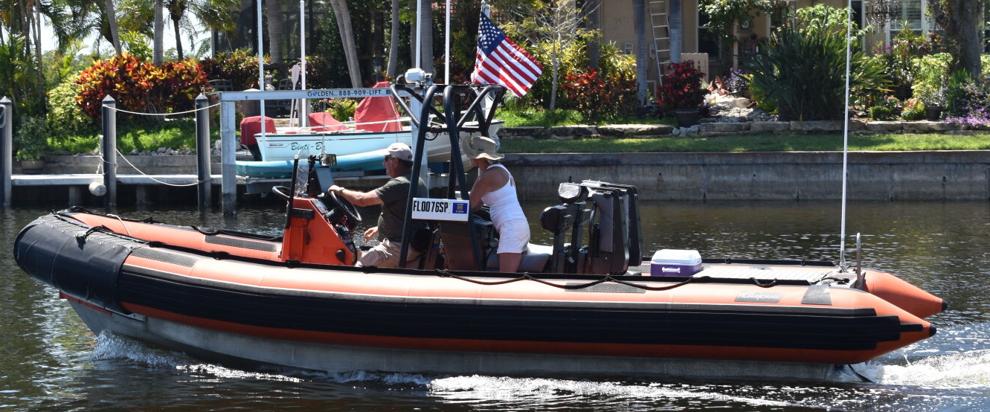 Read more:: 'Waterkeeper' keeps watch on our area waterways | Charlotte Sun