When it comes to appliances, there are a lot of different smart platforms out there, so it can be difficult to know what you're getting with any given device.
If you're a longtime Whirlpool user or you've just bought one of the popular brand's new smart appliances, we'll walk you through its smart app so you can better understand exactly what capabilities you get by pairing your phone with your new dishwasher or washing machine.
Before you get started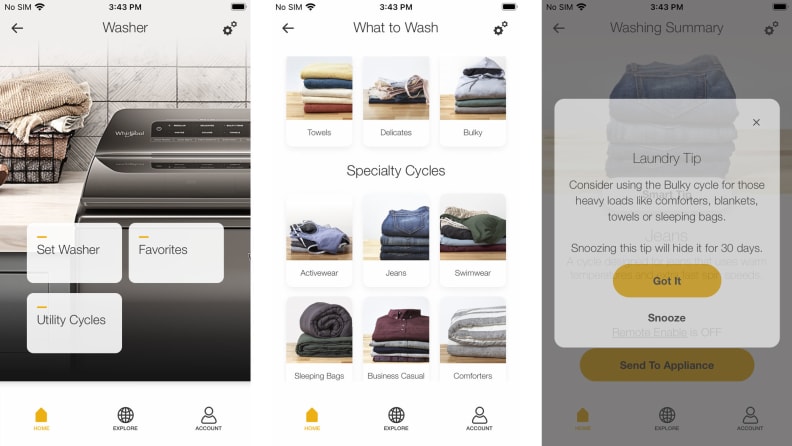 The Whirlpool app is available on iOS and Android as a free download and setting it up with your appliance is very easy to do—but there's still a few things to keep in mind before you start.
This technology only works on 2.4GHz Wi-Fi networks, not 5GHz networks—make sure your router is compatible. You'll also want to have your phone's Bluetooth turned on ahead of time. Lastly, take a look at the appliance to see if it has a QR code on it: You may need to scan it as part of the connection process, but it's only present on select products.
After using it, we found that Whirlpool's app is a bit aspirational about what available appliances do and don't have smart features—so be sure to check Whirlpool's site first. For example, it lists refrigerators in the app, but you won't find any smart fridges currently available on Whirlpool's site. As such, we're going to focus on three categories today: laundry (washers, dryers, and all-in-one), cooking (wall ovens, ranges, microwaves), and dishwashers.
Laundry
Features:
Select cycle
Select cycle options
Set/recall favorite cycle settings
View wash cycle history
Download extra cycles
Set start/end time
Remote start
Import settings from washer to dryer
Check cycle status
Notification when cycle is complete
Notification when detergent or fabric softener is low (front-loaders only)
Start utility cycle
Voice commands via Google assistant and Alexa
Whether it's a washer, dryer, or an all-in-one combination unit, these appliances pretty much boast the same sets of smart features.
First and foremost, it's important to know how Whirlpool handles laundry cycles. While most other manufacturers have more traditional settings, like normal, quick wash, heavy duty and delicates, Whirlpool breaks up their cycles into two parts: "what to wash" and "how to wash" (or "what to dry" and "how to dry"). This system can be more intuitive for those new to doing their own…


Read more:: Here's what you can do with Whirlpool's new smart app