Red tide shows up in southwest and west central Florida waterways and news headlines more often than we care to see it. Even the scientific name for its main causative agent, the phytoplankton (microalgae)
Karenia Brevis
, carries household name notoriety in the Tampa Bay Area due to its roaming prevalence of late in the Gulf of Mexico.
Like inconsiderate houseguests, some red tides tend to linger. The harmful algae bloom (HAB) that first appeared last December currently persists in low to moderate patches along Florida's west coast, with high concentrations present near Pinellas and Sarasota as recently as late October. 
Florida Fish and Wildlife Conservation Commission (FWC)'s Red Tide Current Status displays current tracking data. You can also call 866-300-9399 at any time from anywhere in Florida to hear a recording about red tide conditions. The recording is updated on Fridays at 5 p.m.
The good news? Scientists and environmental advocates now believe that by incorporating simple, eco-friendly practices at home, Florida residents can work alongside larger regional efforts to improve water quality — and in doing so, encourage healthier waterways where HAB houseguests like K. Brevis won't feel welcome for such extended, high-concentration stays.
Here's what you should know.
Red tide stinks: Understanding our algae-imperiled blue economy
Folks who live near beaches from Hernando to Pinellas to Sarasota counties — and as far as far north as Dixie and Taylor counties and as far south as Fort Myers — are sick of smelling the intermittent fish kills caused by red tide brevetoxins; that's not to mention the devastating impact on other wildlife like seabirds and manatees, human health concerns and the harm inflicted on Floridians' livelihoods.
Sarasota Bay Estuary Program (SBEP) Executive Director Dr. David Tomasko speaks to Sarasota Bay's blue economy — its recreational, economic and environmental value threatened by red tides — as representative of broader concerns in estuary systems across Florida.
"People spend time not just on the water, or next to it, but in the water. They want to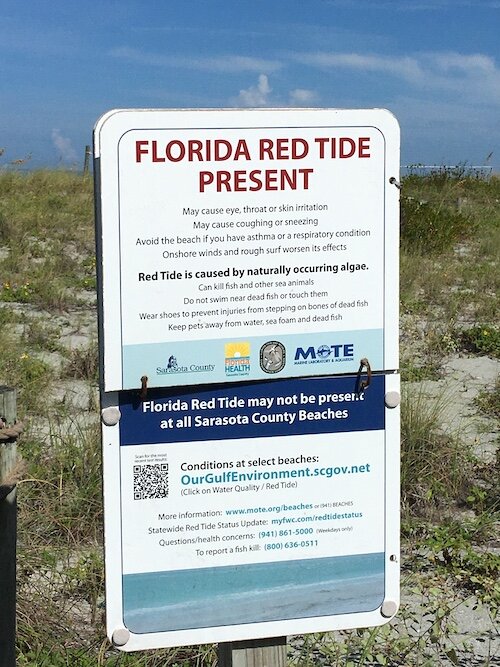 Sarasota County beachgoers may be familiar with this signage indicating the presence of and possible health hazards related to red tide.stand in waist-deep water and see their feet, and they don't want to have rafts of macroalgae wrapping around them. Second, it's important to our economy. We have 20,000 jobs that are associated with bay-related activities: commercial fishermen in Cortez and fishing guides; the waiters and bartenders and restaurant owners, and the person who rents out jet skis. Also, proximity to the bay is associated with an uplift to property values of about three billion dollars — which helps fund schools, police and fire departments, and even the NEP [National Estuary Program]," Tomasko says. 
"Finally," he adds, "water quality is important because of our wildlife. Sea turtles and manatees and dolphins and adult seatrout and…


Read more:: Red tide persists along Florida's Gulf coast, how you can help stop it