The Salmon State
"Alaska's untold secret" — the dividends paid by Southeast Alaska's "Seabank"
By MARY CATHARINE MARTIN
January 12, 2022
Wednesday PM
(SitNews) – Wild salmon. Clean water. Clean air. Carbon storage. Climate change mitigation. Tourism, commercial fisheries — and billions of dollars in economic benefit.
Since 2018, the Alaska Sustainability Fisheries Trust (ASFT) has quietly published reports that upend managers' historical ways of thinking about Southeast Alaska and the Tongass National Forest — and redefine priorities for management now and in the future. ASFT's annual "SeaBank" report outlines and quantifies the benefits flowing from Southeast Alaska' trees, estuaries, creeks, lakes, rivers, coasts, ocean and more. These benefits include goods and services that annually "renew," provided that the natural capital on which they depend is never "overdrawn."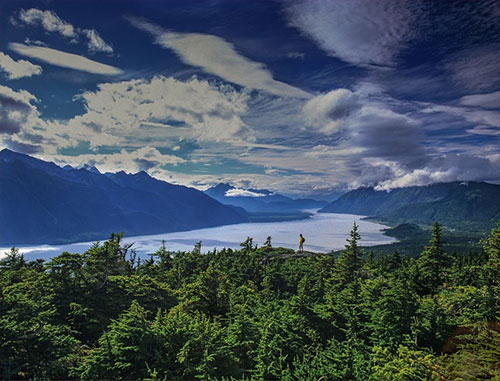 A hiker looks out over forests, mountains, and ocean channels that comprise part of the Tongass National Forest, or SeaBank, in Southeast Alaska.
Photo by Howie Garber ©
In the language of the SeaBank, Southeast Alaska's natural capital produces economic outputs from the seafood and visitor products industries worth several billion dollars a year to Southeast Alaska residents, non-resident workers, visitors and society as a whole. Ecosystem services provide this stream of income as natural capital. It's a complex interplay of plant and animal communities and their environment that interact as one functional unit – SeaBank.
"The 2020 SeaBank report underscores that Southeast Alaska is one of the most productive ecosystems in the world," said Alaska Sustainable Fisheries Trust founder and Sitka-based commercial fisherman Linda Behnken. "Southeast Alaska's natural capital produces economic outputs worth several billion dollars a year, every year, to Southeast residents, visitors and society as a whole. This coastal ecosystem is also incredibly vulnerable to a rapidly warming climate and industrial activities that diminish the productivity of the underlying natural capital."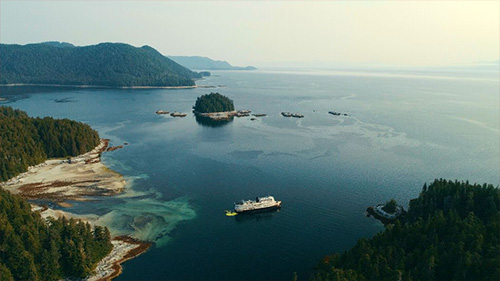 An Uncruise Adventures cruise ship, with a fleet of kayaks in the water behind it, in the Tongass National Forest. Uncruise, a boutique local cruise ship operator, has been vocal about the importance of the intact Tongass National Forest, or SeaBank, to its business.
Photo by Ben Hamilton ©
ASFT released its 2020 SeaBank report at the end of last year. While the 129-page report contains a treasure trove of information to anyone looking to ensure the long-term profitability of the…


Read more:: "Alaska's untold secret" — the dividends paid by Southeast Alaska's "Seabank" By…