Fibre broadband comes in various forms. There's full-fibre (FTTP), where fibre optics extend directly from the servers to your premises, and there's part-fibre (FTTC), where the "last mile" is facilitated by older telephone copper wires.
It's clear which of the two is slower. However, when the "last mile" utilises coaxial cables (traditionally used for Cable TV) instead of standard copper wires, Virgin Media's cable broadband stands out!
Its distinctive HFC (Hybrid Fibre-Coaxial) network not only supports Gigabit internet, rivalling the fastest full-fibre, but also eliminates the need for a new fibre connection to be drilled into your walls!
In this blog post, we delve into everything you need to know about Virgin's understated cable broadband. Let's dive in! 👇
Shortcuts ☄️
Virgin Media's cable broadband offers high-speed internet through its Hybrid Fibre-Coaxial (HFC) network.
While it technically falls under the FTTC (Fibre-to-the-Cabinet) category, it utilises coaxial cables for the 'last mile' connection between the local internet cabinet and the end-user's home or business. This setup allows for considerably faster speeds than the conventional copper-wire FTTC.
In fact, one of the fastest broadband deals available in the UK is Virgin's Gig1Fibre deal, which is available to users connected to Virgin's HFC network.
Why are coaxial cables superior to telephony copper wires? 🧐
Coaxial (COAX) cables, integral to the 'last mile' of the HFC network, gained prominence for their pivotal role in advancing cable TV from the 1980s onwards, largely supplanting TV antennas as primary television signal receivers.
The swift deployment of COAX cables over the subsequent two decades ensures their continued ubiquity, with a connection present in at least 50% of UK homes. Software advancements have enabled COAX to stay abreast of rapid evolutions in telecom technologies. Initially exclusive to cable TV signal transmission, these cables evolved to accommodate both telephony signals and successive broadband internet enhancements.
Their sustained relevance owes much to their inherent superiority over telephony copper cables. Coaxial cables boast greater bandwidth, enhanced shielding against interference, and superior resilience against signal loss over extended distances. All these advantages come at only a slightly higher cost.
Why is Virgin Media the owner of the COAX network? 💼
Virgin Media was established in 2006, following the merger of NTL and Telewest, two primary stakeholders in the UK's coaxial cable networks. Subsequently, Virgin Media persistently acquired other cable providers, swiftly reinforcing its status as the predominant owner of the network.
Over the ensuing decade, Virgin made substantial investments in integrating fibre optics into street cabinets. This led to the development of the Hybrid Fibre-Coaxial (HFC) network, enabling Virgin Media to deliver high-speed broadband with a significantly reduced investment compared to competitors who had to implement FTTP to achieve comparable performance.
As of 2023, only Virgin Media and Wight Fibre provide high-speed cable broadband via their HFC networks. It's worth noting that Wight Fibre's cable broadband is limited to select properties on the Isle of Wight.
Virgin Media's HFC broadband employs the DOCSIS (Data Over Cable Service Interface Specification) standard, an international benchmark for data transmission over cable systems.
Previously, DOCSIS 3.0 enabled Virgin Media to deliver speeds reaching up to 300 Mbpsm. But since DOCSIS 3.1 became available, Virgin's cable broadband has been able to support speeds soaring up to 1.1Gbps (1,100 Mbps).
The chart below adapted from Ofcom's 2022 home broadband report illustrates the remarkable performance of the HFC network when compared with FTTP offerings from other providers.
In terms of its overall performance, it appears that the recent DOCSIS software upgrade has significantly boosted the performance of HFC, as exemplified by this snipppet from the report:
"Cable connections had the largest increase in their median average download speed in the year to March 2022, up by 88.1 Mbit/s to 199.3 Mbit/s. This large increase is because cable customers have migrated to faster packages: in 2022 the median performance for cable services related to a service with an advertised speed of 213 Mbit/s, whereas in 2021 it related to a 108 Mbit/s service."
Source: Ofcom's 2022 home broadband report
While these figures are commendable, the broadband landscape is rapidly evolving. Given the intrinsic advantages of fibre optics over COAX, it's inevitable that full-fibre speeds will eventually eclipse those of HFC. Virgin are aware of this, and will soon being replacing HFC with FTTP. More details in our HFC replacement section.
Virgin Media's HFC network (cable broadband) presents several compelling advantages over other fibre networks:
Wide Coverage 🌐 – Virgin's cable broadband is available to 14.8 million UK properties (over 50%), making it one of the most widely available gigafast networks available. For context, only 48% of UK properties are equipped with full-fibre FTTP.
Gigabit Speeds 🚄 – Cable broadband is amongst the best-performing alternatives in the UK broadband, notably Virgin Media's Gigabit deal.
Bundled Services 🔀 – The ability of coaxial cables to transmit both telephone and cable TV signals allows for bundled services, although the latter will soon be phased out as the Big Switch Off approaches, where analogue telephony will be replaced by VoIP. 
Scalability 📈 – The HFC network serves as an interim solution, designed with future upgrades in mind. Users can adopt cable broadband without concerns of obsolescence. Virgin has already charted plans to transition from HFC to FTTP by 2028 under 'Project Mustang', anticipating FTTP speeds to touch 10 Gbps by the decade's close.
Affordability 💰 –Virgin's cable broadband offers a spectrum of pricing tiers based on speed, including M125, M250, M350, M500, and Gig1Fibre.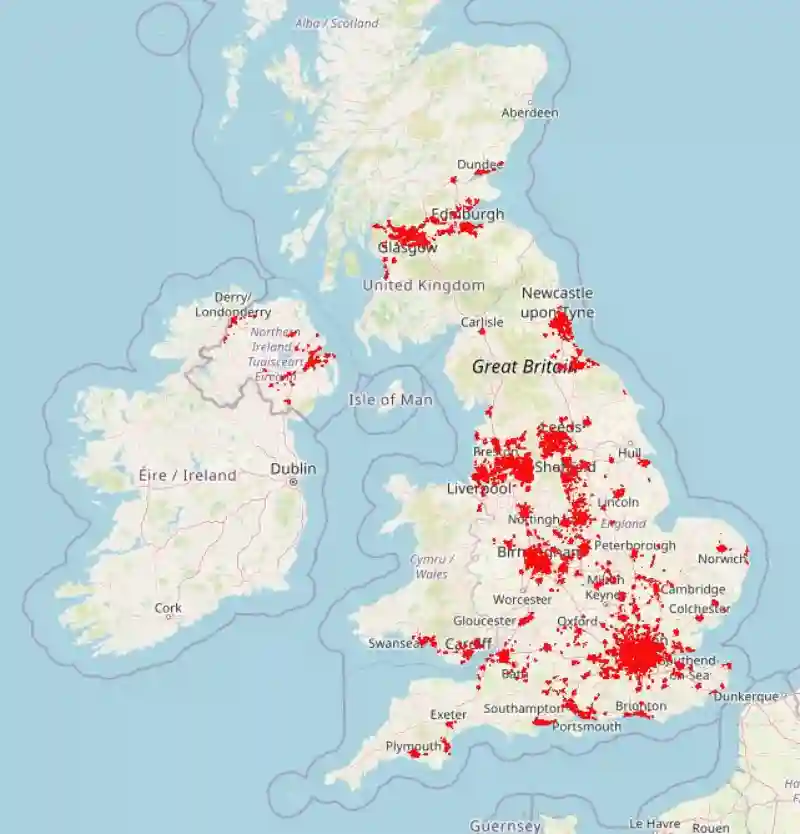 Limited Rural Availability 🚜 – Much like the broader fibre network, Virgin's cable broadband is predominantly absent in the UK's rural regions. For many in these areas, alternatives like ADSL, mobile broadband, or even Starlink might be more viable options.
Impending Phase-Out ❌ – While the current performance of HFC is commendable, the inherent speed advantages of full-fibre mean it's poised to surpass cable broadband. The transition from HFC to FTTP has already started and will be completed in 2028 as part of 'Project Mustang'.
Higher Latency 📊 – Despite cable broadband's gigabit capabilities, it cannot match the low latencies of other fibre connections 👇
Is Virgin Media transitioning from cable broadband to full-fibre? 😕
Regrettably, when compared to fibre-optic cables, coaxial cables lag behind in aspects like speed, bandwidth, signal strength, and reliability. While HFC has managed to compete with (and occasionally outpace) full-fibre due to system updates, it's inevitable that full-fibre will eventually realise its superior potential.
Even though cable broadband currently stands out in performance, Virgin Media has set its sights on transitioning from its dated HFC network to full-fibre connections. This shift, under the banner of 'Project Mustang', is slated for completion by 2028 and is estimated to cost £100 per household.
Furthermore, Virgin is gearing up to launch its XGS-PON Full Fibre upgrade in 2023. This enhancement promises to unlock speeds of up to 10 Gbps for its existing full-fibre broadband users. Such groundbreaking speeds pave the way for cutting-edge IoT applications, complemented by advancements in fields like artificial intelligence (AI) and virtual reality (VR).
Source: ISPreview
FAQs ❓
What is a coaxial cable?
A coaxial (COAX) cable is a type of electrical cable consisting of a central conductor, insulating layer, metal shield, and outer insulating layer, commonly used for transmitting television signals, internet connectivity, and other data.
What is VMO2?
VMO2 stands for Virgin Media O2, the company resulting from the 50:50 merger between two telecom giants: Virgin Media and O2 that took place in June 2021.
It should be noted that despite this change, Virgin Media and O2 have separate consumer websites and branding, which is why the former still operates as its own standalone broadband provider.